Simple and Affordable!
Do you have belongings you need to store away from home or the office? We have safe and affordable containers to rent like that shown below. No contract and no hidden charges.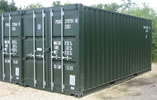 Storage information
If you cannot find the information you are looking for please read the FAQs page or contact us
Prices are per calendar month for a single storage container of the relevant size hired.
No hidden extra storage charges. Prices are as quoted + VAT.
All payments are payable for entire month of hire.
Our rate of hire is very competitive, and you can make excellent additional savings on the montly rates if pay in advance for whole months.
Upsizing and downsizing is available on request.
All measurements are an approximate guide and may vary slightly.
Storage Container hire includes loan of secure padlock and keys which must be returned to us at end of the hire period.
All storage prices are plus VAT.
Where do you want to go now?
Home Page / Contact Us / Look Inside a Container / Read Testimonials
Latest News
More choice of container sizes for our customers. learn more..
What Customers Say !
Our customers told us they like the simplicity and the affordable prices of our storage containers. Read our customers testimonials
Safety & Security
Wokingham Self Storage take onsite safety and security very seriously. We have CCTV and also people living on site to protect your possessions. read more
Local Towns
Many of our customers come from within 20 miles or 30 minutes drive of our location.